This course is an online course with Capacity – 25 students
Registration – Register Here
Topics will be released containing audio/video file; ppt and doc file of each topic. Audio/video file can't be downloaded but ppt and doc are downloadable.
The students will not be able to login after 3 months with their id and password.
There will be a doubt solving session by mail at the end of every month. These sessions will also be available for listening for entire course tenure.
The course will start from 5th sep 2022 to 5th Dec 2023. The admission will open from June 20th 2023.
The medium of instruction will be English. The sessions and eligibility may slightly differ from Indian Students keeping in mind, it would be a completely new subject introduced.
Eligibility for Nutrition course – Internees with provisional registration, BAMS, M.D., Child educators, Physiotherapists, Degree holders in Yoga and naturopathy. B.Sc , M.Sc nutrition, Nutritionist and Dietician and everybody who want to be healthy following the Ayurvedic principles.
Introduction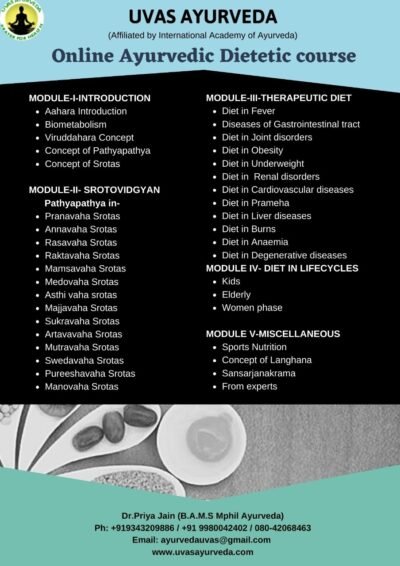 Syllabus
4. Concept of Pathyapathya
A. Pranavaha srotas
B. Annavaha srotas
C. Rasavaha Srotas
D. Raktavaha Srotas
E. Mamsavaha srotas
F. Medovaha srotas
G. Asti vaha srotas
H. Majjavaha Srotas
I. Sukravaha Sortas
J. Artavavaha Sortas
K. Mutravaha srotas
L. Swedvaha srotas
M. Purishavaha Srotas
N. Manovaha srotas
A. Fever
B. Diseases ofGastrointestinal tract
C. Diet in joint disorders
D. Diet in obesity
E. Diet in underweight
F. Diet in Renal disorders
G. Diet in cardiovascular diseases
H. Diet in prameha
I. Diet in liver diseases
J. Diet in burns
K. Diet in Anaemia
L. Diet in Degenerative diseases
A. Kids
B. Elderly
C. Womenphase
D. Sports Nutrition
Objectives of the course
* Enchancement of knowledge.
* Diet precription to your patients.
* System wise pathyapathya mentioned is the uniqueness of the courses along with disease wise.
* Extremely useful for practice.
Information
• Every week two audio, video will be sent till 12 weeks.
• Monday to friday videos will be send along with back up key ppts everyday along with the videos.
• Every day one receipee will be send.
• Every week two topics will be covered in the form of notes (PDF).
• Assignments at the end of every month. (Total 3 assignments each of 5 questions)
• Last week will be the doubt clearing session by E-mail and submission of the all the assignments and project submission.
• Project topic will be given in prior.
• Certification will be by Uvas Ayurveda (Affiliated with International Academy of Ayurveda).
• Certification will be done only after the submission of assignments and projects (online submission).