Soundarya / Beauty / Ayurvedic cosmetology course
This course is an online course with Capacity – 25 students
Registration – Register Here
Topics will be released containing audio/video file; Ppt and doc file of each topic. Audio/video file can't be downloaded but Ppt and doc are downloadable.
The students will not be able to login after 3 months with their id and password.
There will be a doubt solving session by mail at the end of every month. These sessions will also be available for listening for entire course tenure.
The course will start from 5th sep 2022 to 5th Dec 2023. The admission will open from June 20th 2023.
The medium of instruction will be English. This course has french translation in form of subtitles and also notes in french The sessions and eligibility may slightly differ from Indian Students keeping in mind, it would be a completely new subject introduced.
Eligibility for Nutrition course – Internees with provisional registration, BAMS, M.D., Child educators, Physiotherapists, Degree holders in Yoga and naturopathy. B.Sc, M.Sc nutrition, Nutritionist, Beauticians and everybody who wants to be healthy following the Ayurvedic principles.
Introduction
Soundarya /Beauty/Ayurvedic cosmetology course takes you deeper to understand the concept of beauty from within covering the Biometabolism, Dhatu-Upadhatu-mala concept, Agni, Ama, Yoga, Meditation and then the hair care and skin care with the cosmetic preparations. We have tried to keep the preparations as simple as possible by using just 15 to 20 easily available herbs that can be got in countries apart from India as well. This course will open your sight to inner beauty.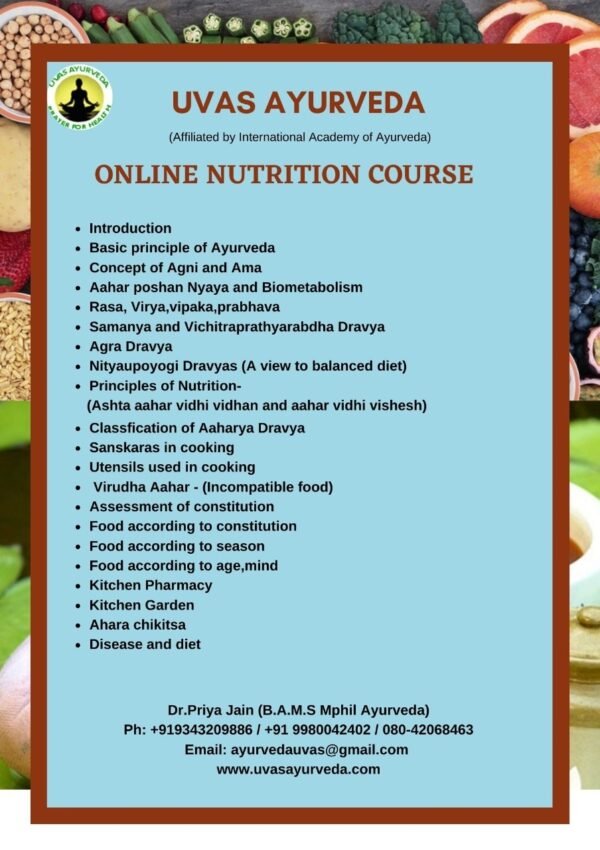 Syllabus
Soundarya Ayurvedic Cosmetology course
Ayurvedic approach to beauty
1. Basic principles of Ayurveda
3. Introduction to beauty and Ayurveda
4. Role of dinacharya in Soundarya
5. Role of diet in Soundarya
6. Role of panchakarma in Soundarya
7. Achar Rasayan and nitya Rasayan
Ayurvedic skincare
A. Face massage
B. Face scrub
C. Face cleansing
D. Face pack
E. Herbal steam
3. Anti-wrinkle treatment.
Ayurvedic hair care
A. Head massage
B. Thalapothichil
C. Fumigation
D. Moisturizing mask
E. Dandruff treatment
1. Weight management and udvarthanam
E. Triphala ghee preparation
Objective
Understanding beauty concept in deeper way
Implementation of this knowledge for your patient and clients
Information
Every week two audio, video will be sent till 12 weeks.
Every week two topics will be covered in the form of notes (PDF).
Assignments at the end of every month. (Total 3 assignments each of 5 questions)
Last week will be the doubt clearing session by E-mail and submission of the all the assignments and project submission.
Project topic will be given in prior.
Certification will be by Uvas Ayurveda (Affiliated with International Academy of Ayurveda).
Certification will be done only after the submission of assignments and projects (online submission).